What Malaysia can be proud of Dato' Bernard Chandran is, he not just own a boutique at KL Plaza, he definitely has spread his wings to europe and launched his couture collection in his boutique in
knightsbridge, London
.
Chandran himself says that he got an inpiration for his creation mainly from his ancestry which is China, Indian as well as Malay including some of other eastern cultures. He also stated that his range of design for oversea shows are much daring compared to his range of design for Malaysia shows. this might due to the fact that Malaysian are slightly conservative when playing dress up. He started to venture into London Fashion scene in the middle of 2005.
He also stated that he truly got his inspiration for his collection from his clientele. For Chandran, comfortable is a priority when designing his line. He then added
'

My main inspiration is my mum. I discover myself through her. I am truly inspired by her younger days in the 50s, where they actually took every effort to be fashionable. Given the limited resources at that time, she would take the pain to create and sew her own clothes, putting them together to look stylish. I truly admire her creativity, the passion to create and the effort to look good'
.
Chandran's also just opened up his recent concept store targeted the young generation especially the teenagers name Area 27 in KL. This multi-label store represents the pop eastern culture plus high street style. It offers limited items in every seasons of the year.
According to some convenient resources, Chandran loves to play with material such as satin and constructual design for his collection.
The well-spoke constructual sleeves desgin by him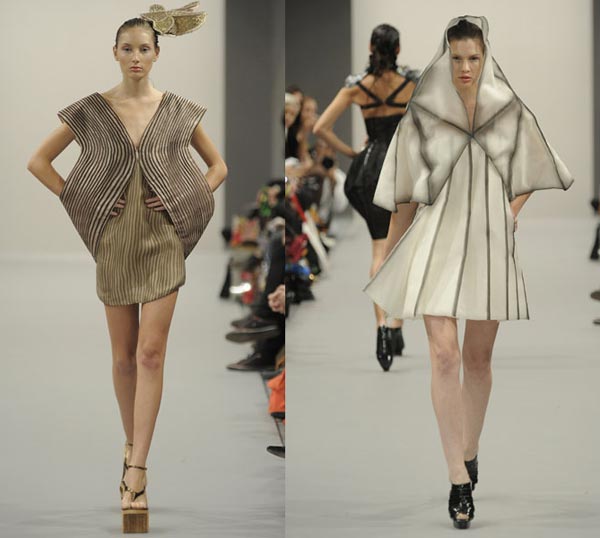 His design from the same collection line.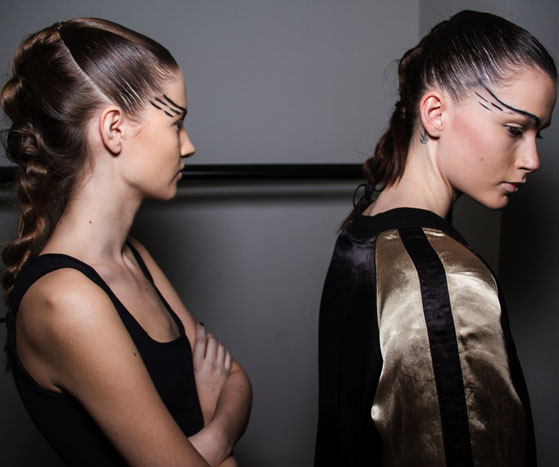 Models at the backstage of Bernard Chandran runway show

.
references:
1.(n.a), (n.d). Mesmor: Bernard Chandran.Retrieved from
http://www.jeffreychoong.com/mesmor/designers-info/info-bernard-chandran

2.Lun,N, (n.d). Idol Magazine: Bernard Chandran. Retrieved from
http://idolmag.co.uk/fashion-interview/bernard-chandran-interview

3.(n,a), (n.d). wikipedia: knightsbridge.Retrieved from
http://en.wikipedia.org/wiki/Knightsbridge
4. (n.a), (n.d). google image. Retrieved from
https://www.google.com/search?q=bernard+chandran+fashion&source=lnms&tbm=isch&sa=X&ei=dfhjUs-8L8OprAfT1oHICw&ved=0CAcQ_AUoAQ&biw=1517&bih=736&dpr=1#facrc=_&imgdii=_&imgrc=C2sYuSd4VEZh7M%3A%3BgmgjtL7lAukc0M%3Bhttp%253A%252F%252Fgagafashionland.com%252Fwp-content%252Fuploads%252F2009%252F09%252Fgaga-bernard-chandran.jpg%3Bhttp%253A%252F%252Fgagafashionland.com%252F2009%252F09%252Flady-gaga-in-bernard-chandran%252F%3B721%3B541